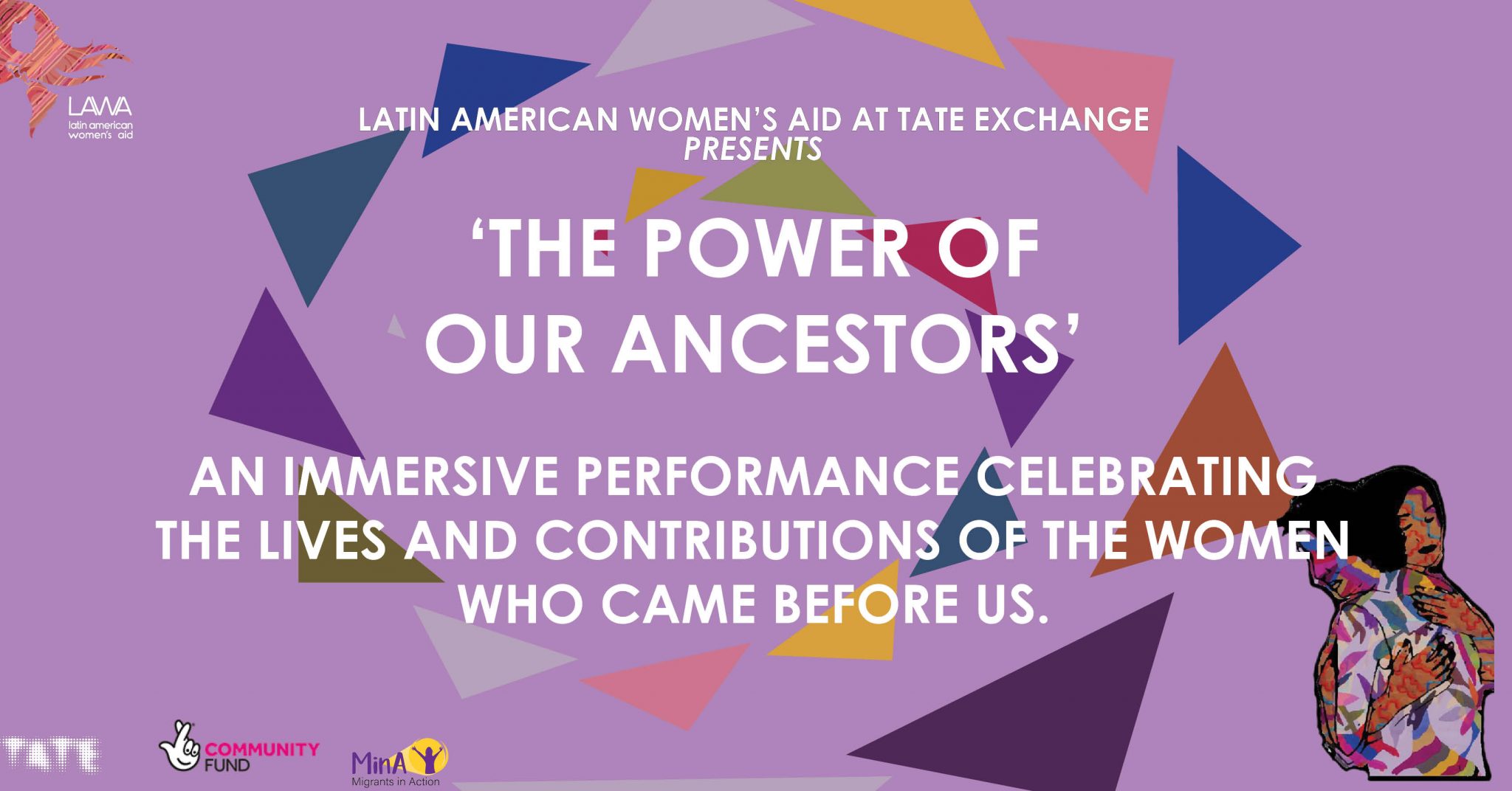 Saturday 14th March, 14:00 – 18:00 at  Tate Modern 
Latin American Women's Aid (LAWA), in partnership with MiNA is delighted to share the upcoming takeover of the Tate Exchange for an afternoon of sharing, celebrating and honoring the lives of our ancestors and the women who came before us. Over 50 Latin American womxn and non-binary artists have come together to invite the general public of the United Kingdom to take part in an immersive experience that will plunge the audience into the cultural melting pot that is Latin America and all its womxn have to offer.
Following LAWA's intrinsic organisational commitment to Latin American communitarian feminism, the artist collective will gather on the ground floor of Tate Modern and then walk up to Tate Exchange, singing traditional music from across the continent, followed by percussions. The general public will be encouraged to join the procession along the way, collaborating and immersing themselves in the ritual as a way of preparing for the traditional circle of sharing.
Once at Tate Exchange, the Community will perform various traditional rituals, creating a beautiful kaleidoscope of experiences and traditions, and as the main performance comes to an end, visitors will be invited to also share and take part in the ceremony.Tate Exchange is an ambitious 'open experiment' which allows other organisations and members of the public to participate in Tate's creative process, running events and projects on site and using art as a way of addressing wider issues in the world around us.
For more information or high resolution images, please call LAWA on 0207 275 0321 or email communications@lawadv.org.uk. To find out more about Tate Exchange please visit tate.org.uk/tateexchange.
For press information about Tate please email pressoffice@tate.org.uk or call 0207 887 8730 (for Tate Liverpool call 0151 702 7444). For high-resolution images visit tate.org.uk/press. Note to Editors: Latin American Women's Aid is an organization working with Latin American Women and children fleeing gender-based violence, run by Latin American women. With a multifaceted, holistic and political approach to healing and empowerment, the organization practices the ethics and values of sorority rooted in both intersectional feminism and community feminism.
Based on the traditions of black feminism, LAWA incorporates the undeniable role that is played by intersectional identities in people's lives to support women through their trauma, while recognizing their right to self-determination. LAWA is proud to be bisexual, lesbian, queer and trans women inclusive.Tate Exchange Associates Organisations from a wide range of fields well beyond the gallery's normal reach have become Associates of Tate Exchange. This group programme the dedicated spaces at Tate Modern and Tate Liverpool. Working in a spirit of generosity, openness and trust, the Associates collaborate with one another around an annual theme inspired by the art on display. Now in its second year, Tate Exchange has expanded its group of Associates to 60 partners, while consistently seeking to engage audiences which are new to the museum. For the full list of Associates and more information please visit tate.org.uk/tateexchange.
Migrants in ActionMinA is a Theatre Programme for Brazilian women who experience gender-based violence in London and traumas due to the migration process. It provides a safe space where females can be themselves, speak their own language, creatively share stories and reflect on their own choices.